| | |
| --- | --- |
| The Face of an Angel | |
I just wanted the pitch to be over. Surely I'd done enough, running it out on 6b moves from poor gear onto a nearly holdless and certainly gearless face. And it had worked; Somehow I'd reached an easing. Now I craved a belay to rest my aching limbs and congratulate myself on one of the hardest trad onsights I'd done in years.
| | |
| --- | --- |
| | |
| | Miles, pitch 27, E7 6b successful redpoint |
Certainly it was the hardest I'd done 28 pitches and seventeen days into a big-wall new route. Only the day before I'd felt a little disappointed that fate hadn't delivered an onsightable E7 pitch. Both Ben and Miles had been dealt hard onsight challenges and done spectacularly well to get up them. But as the angle was easing it had looked like my chances were receding. But as we should have known by now things are rarely as they seem. With unerring regularity we had each day proclaimed the difficulties all but over, only to find yet another crux pitch barring progress the very next day. But this morning we'd been little more than a ropelength from the top and – had I really said it yet again? – it had looked much easier above. Easy or hard, it mattered little now as I had to continue regardless until I found gear enough to belay. After over two hours on the sharp end I'd had enough. A couple of small wires, ten metres and a 6a/b move later I finally chanced upon a small crack and with great relief crammed in wires like my life depended on it, which I suppose it did.
Ben followed with an appropriate mix of enjoyment and effort, somewhat shaken after pulling off a large block from a low crux move and gashing his leg when he and the block chose the same direction to fall. But he still was fresh enough to lead through up an E6 rising traverse of thin, technical and virtually unprotected 6a moves. This impressed me greatly as by now I was a wasted shell of a climber as a result of my leading traumas. A rest day was essential.
Having a team of seven was working very well. The four strongest climbers shared the hardest leads, with the others taking over on those few occasions it didn't look steep, hard, bold and loose all at the same time. At first it had seemed frustrating, each watching others enjoying fantastic and challenging climbing while we all were fresh and eager to try every pitch ourselves. But there was hauling to be done – pulling up 300 litres of water isn't a trivial matter, then there are the portaledges, the food, the stoves, the fuel, etc. Luckily the hauling workload lessened with every litre drunk and every meal cooked, which was just as well because our fatigue grew each day. By now we were all so drained from the physically and emotionally draining climbing cruxes we were only too happy to let others take over for a while. Even, as it seemed today, if that meant we wouldn't be first on the summit. It was genuinely a team effort and it didn't seem to matter who topped out first as long as everyone got up safely in the end. But this still couldn't be guaranteed, since the steepness had receded only slightly and poorly-attached vegetation was threatening to replace it as the critical obstacle of the moment.
| | |
| --- | --- |
| | |
| I'm told by knowledgeable locals that this spider on our tent is one of the many species of venezuelan tarantula | |
The approach seemed an eternity ago. How much we now missed the freedom to wander unroped at will, to sleep without a harness, and the simple pleasure of washing. Even the efforts and perils of the journey into deepest Venezuela were relegated to minor inconveniences compared to the rigours and scares of climbing behind the world's biggest waterfall. Except perhaps for one occasion. We were all out of the boat – an 11m dugout with an outboard motor strapped to the back – and all pushing hard to get it up one of the many shallow rapids too rocky to safely use the engine. Suddenly a great kerfuffle erupted and Ben, with a look of terror in his eyes and not a little panic in his voice, screamed 'CROCODILE!', pointing not two metres ahead of him while simultaneously launching himself back into the boat. I would have followed at similar speed except for the need to avoid a 5-inch tarantula that had chosen exactly that moment to appear on the boat's rim. And to think we'd been happily swimming just a little while earlier!
| | |
| --- | --- |
| | |
| | Miles, Ben & Anne, camp 3 ledges, approx. 450m up. |
But the climbing and the jugging felt more dangerous. Each diagonal jumar saw bodyweight-tensioned ropes skimming across abrasive edges, and no matter how well we tried to protect them the ropes were getting trashed. We had knots where the sheath had worn right through, which made abseiling past them a chore, especially in the dark. We'd taken falls too. Miles had got off to a good start by taking a 20-footer from the second pitch, dripping as it was from the attentions of the waterfall's windblown skirt. I'd seen perhaps the most comical fall when I landed on Alex, trying hard to avoid taking out his video camera on impact and almost stomping on his face instead.
Alex was our Russian secret weapon. Before the climb we'd joked that if the moves were really hard Miles would be able to do it, if it was loose I'd be able to do it, if unprotected Ben would do it. And if none of us could do it we'd send Alex up. He took the titles for both the longest and the most falls, and impressed us all with how casually he accepted snapping small wires and getting back on with barely a pause or even a grunt. 'To climb loose rock without falling you need luck,' he proclaimed. We all disagreed strongly. Maybe we were just luckier.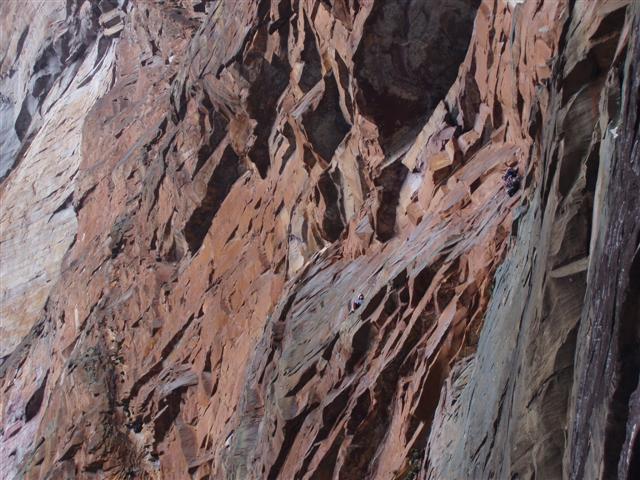 Ben and Alex, pitch 10, E7 6a
Each day we would wake up to the most spectacular and unique view. The falls snaked in ever-morphing wisps down into the amphitheatre they've carved themselves after millions of years of effort. Swirling mist and cloud below us would create a surreal and constantly changing picture. And by mid-morning a rainbow would appear, soon followed by a second – not spanning the horizon as we are used to, but encircling the base of the waterfall itself, in an arc that widened with the rising sun. We felt like the luckiest people on earth.
| | |
| --- | --- |
| | |
| John, pitch 28, E7 6b onsight attempt | |
The rock is an ancient and extremely hard sandstone, perfect for free-climbing as it presents edges, slopers, pinches and laybacks in just sufficient measure. And just enough cracks and slots to make protecting it possible, at least with several racks of tiny cams, a flair for creative placements and a willingness to continue optimistically if even these proved elusive, which had become worryingly often.
The only real problem was the amount of loose rock, which appeared on every scale. Anne and I have climbed other tepuis and found mostly very solid rock. There were plenty of good rock pitches here too, but all too often we were tap-testing suspect blocks and flakes, placing gear behind many of them, and carefully distributing weight in an effort to leave most of them in place. On the Spanish aid route topo there's a section described as 'Derribos Arias', which roughly translates as 'Demolition Zone'. The only known repeat aid attempt turned back around here, which concerned us somewhat as we expected our line to share much of this section of climbing. What we hadn't realised was that this demolition zone would extend for over twenty pitches!
The Spanish direct route - climbed back in 1990 by Jesús Gálvez and Adolfo Madinabeitia - was a magnificent achievement for its day. Multiple A4 pitches and not so much as a rivet hole drilled on lead. Little wonder it's still unrepeated, especially as it takes on the full challenge of the huge wall. The first two climbing expeditions hereabouts had followed improbable steep jungle some way right of the falls. After that almost all of the cliff's few other suitors chose to scramble/bushwhack up to a prominent 500m shoulder on the left of the face, from which the much better rock of the upper wall can be accessed. One of these routes was climbed free by a American-Venezuelan team in 1996, led by the late Jose-Luis Pereyra at 5.11+/J4 (J for Jungle). But ever since I first set eyes on it I knew the soaring, bulging and tantalisingly continuous features up the amphitheatre itself just had to be climbed direct. The only real question was whether we were up to the task.
| | |
| --- | --- |
| | |
| | Ivan aiding the start of pitch 27 (A3 or E7 6b), later climbed by John onsight with gear in . |
Our first attempt had been in 2002, when Anne, Ivan and I had tried the line with Andre, another Venezuelan climber. We did some very hard climbing, but a third of the way up the wall our lightweight ropes were in tatters and it would have been pointlessly suicidal to continue through the almost irreversible bulges above. The second attempt the following year had been thwarted very low down when another Venezuelan climber, Henry, contracted a debilitating fever. Ivan had to escort him back to the ground and even though Henry recovered fully our climbing hopes were dashed. This year we were more determined than ever, and I'd been delighted when it had become clear how strong our international team would be. Failing three times would be unthinkable, and the expedition therefore became something of a 'now or never' attempt. Anne was if anything even more determined than the rest of us, if such a thing is possible. She'd been for an x-ray of a painful and persistent wrist injury just before we left, and was choosing to climb, and lead, with a broken wrist rather than miss out on our biggest ever climbing dream. The whole team was psyched, which was just as well as otherwise I fear we'd hardly have made it off the ground, so gnarly was the climbing and so intimidating the environment.
Now we were so close to the top we could smell it. A small subsidiary waterspout was drenching our final camp with each evening gust, but it would have taken far more to dampen our spirits. Everything was working out perfectly. We had food, water and fuel for just a few more days, and even though the climbing was far more continuously challenging that we'd expected, we always seemed to be able to find a way through somehow. Maybe we were lucky. Maybe the gods of Auyantepui (the plateau peak down which the falls drop) were happy for us to be climbing this most spectacular and memorable of walls.
| | |
| --- | --- |
| | |
| | |
It was Miles who reached the top first, swinging leads with Alex up the still-tricky top pitches. A huge whoop of delight passed through the air and through our radio waves as he finally stood on level ground for the first time in over two weeks. The team was euphoric. All we could do was repeat 'We did it! We did it!' manically to each other. After so many days of uncertainty the relief was truly enormous.
As we expected, the plateau was fascinating. Swirling cloud cloaked and revealed delicate wind-sculpted rocks. Multicoloured flowers were in bloom, many of which only appear on tepui summits with their own often unique ecosystems. It was a magical environment and we felt enormously privileged to be there. We headed over to where the base-jumpers launch and we let our imaginations fly. One thousand metres, thirteen seconds of freefall and a difficult landing in the small and rocky clearing below. But that's the dream of others; ours was now a reality, and one so intoxicatingly fulfilling as to stay fresh in our memories for the rest of our lives.
An account of the first ascent of "Rainbow Jambaia" which takes a direct line up the face behind Angel Falls in Venezuela. The face is 1000m high and overhangs approximately 60m in total. As such the climb is the biggest overhanging free-climb in the world. The team comprised John Arran, Anne Arran, Miles Gibson, Ben Heason, Alex Klenov (Russia), Ivan Calderón (Venezuela) and Alfredo Rangel (Venezuela). The 31-pitch route took 19 days to climb, with each team member spending 14 or more nights on the wall. The nine hardest pitches went at E7. Of these, five were climbed entirely onsight, although one of these benefited from gear in place after the pitch was earlier aided. The other four E7 pitches were redpointed with the trad gear in place. All crux pitches were climbed by Miles, Ben or John in roughly equal measure. The expedition would not have been possible without support from UKSport (BMC), Mount Everest Foundation and The Alison Chadwick Memorial Fund grants.
This article, by John Arran, first appeared in the July 2005 issue of Climber magazine.